March 14th, 2013 — 9:11am

Snowboard/Ski goggles evolve every year, from color, shape, fit, lenses and now technology. Some goggles have incorporated HD cameras in them like Zeal's iOn which even includes an in-goggle view finder. Another leader in goggle innovation is Recon with their heads-up-display (HUD) system for snow goggles.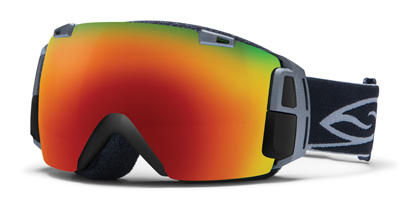 The Recon MOD Live heads-up-display system for snow goggles has been in the works for a few years now. It not only can be used as a view finder with a camera similar to Zeal 's built-in camera system, but it's primary feature set provides other valuable information, rider stats, GPS, and connectivity to your mobile device. They have partnered with popular goggle manufacturers like Smith, Briko, Uvex, Oakley in addition to Zeal to incorporate the system into their frames which is a great move on their part to partner with those who already focus on quality eyewear and then Recon can focus on the tech gear.
Now, before diving into the review, I like to ask "what problem is this new technology is attempting to solve?" In my opinion, it is attempting to solve several problems that not everyone may consider to be a "problem." Presenting data of your actions and/or from other devices in a contextual view is one and I have experienced this myself either with my phone or a camera. Another is tracking your ski/snowboard activities and keeping a historical log of the data along with the possibility of sharing it. You could even consider tracking others/friends while riding another problem as well which this system can help address. Now some of these may have a higher urgency for a solution than others, but that is dependent on the rider.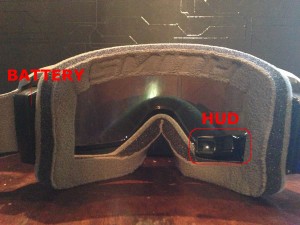 I am an avid snowboarder and a tech geek, so this concept has intrigued me since I heard about it and I recall several years ago thinking of a similar idea myself, but somebody else actually executed on my pipe dream.
I finally had an opportunity to try some Smith IO Recon goggles! I have read some reviews on them earlier and some were a little negative on the idea and price, but I had to try them out for myself. In this post, I'm going to list out some key aspects of the system and my perspective and experience on their performance and some insights into the overall user experience of the system.
This is a very detailed and long review on this technology, as I am providing a perspective as a rider, but I also have to touch base on the usability and experience aspects as well to address my geek-side.
note: When I refer to a phone or mobile device, I will be speaking in regards to an iOS iPhone based on what I used in my experience. Some aspects may differ on other operating systems like Android and I haven't had the opportunity to try that out yet. I neglected to note the firmware version prior to returning the pair, so updates may have been provided since this post.
Primary Features
Hardware features:
HUD in the goggle: it offers some angle adjustment, but is pretty much fixed to the right bottom side for this model.
Rechargeable battery fits in the opposite side of the goggle.
Remote to navigate through the various screens containing the above items. Essentially paginating right and left and scrolling up and down and selection.
The basic software features include:
Music control of a mobile device
Buddy Tracking: track others in your group
Navigation/Compass: digital compass for direction
Trip Info: GPS tracking, altitude, vertical feet, speed, jump time
Notifications: text and phone calls
Settings: bluetooth & connectivity, unit preferences, and apps

Contour Camera App connection: connect the HUD as the view finder of a Contour camera.
Connectivity
You can connect the HUD to your phone for sending and receiving information/data. Pairing the HUD to the phone is fairly easy, but there are two types of connection 1) connecting the HUD to the device 2) connecting the device to the HUD – the difference being how notifications can be communicated to the HUD vs. having the HUD/remote control the device remotely. Once you have installed the app on your mobile device (ensure you have the latest firmware update for the HUD's as well), then you can go to the Settings and pair the phone to the app. Then you will be prompted to pair the HUD with the remote in a following step if it hasn't already automatically paired with it.
Now, this is essentially connecting the app to the HUD and it only permits certain communication and connectivity at this point. If you prefer to have your phone's notifications display in the HUD, you need to pair the HUD to your phone from the mobile devices system bluetooth settings which I note below.
note about HUD Firmware
I had some issues with this due to the fact that the HUD's firmware was not updated, so it would pair, but not connect. There was no explicit notification around this, so I didn't find out until contacting support.
*You do receive a firmware status when you plug the goggle HUD into your computer via USB and connect to the Recon web app, but I had not done that yet, so I had no idea if they were updated or not.
Remote Control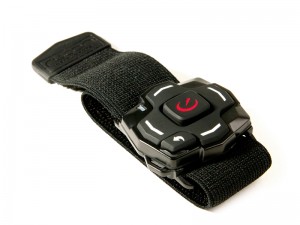 The system comes with a remote with a 6 button pad (left, right, up, down, select, and back buttons). The buttons are large enough, so you do not have to remove you gloves to interact. It is designed to fit on you in multiple areas like around your forearm like a watch, or you can also use the strap and tie it to a backpack or use the extension and even strap it to your leg. I think on my upper thigh would be a more ideal area for quicker accessibility, but I don't think I would like the strap around my thigh.
Trip Viewer/GPS tracking
The HUD has GPS built-in to the unit itself, so it doesn't need to rely on your mobile device if you prefer not to use it. The HUD will track you throughout your trip for the day. You can even update the resort maps that are available and then it should geo-locate you to the appropriate resort you are riding at and provide further details. As you enjoy your day, your runs are recorded along with the stats, including data like altitude, vertical feet, distance, speed and jump time.
Altitude
This feature did take 20-30 minutes to update correctly, but once it was updated it was good. Not necessarily the most useful information for me at a resort, but I can see it being more valuable in back country or heli.
Jump Time
This did not seem to be accurate as it only started recording my jumps in the later part of the day for some reason. I'm not sure if this was a GPS issue or not. It would have been cooler if it could track jump height and distance, but I understand the challenges in obtaining that type of data accurately.
Vertical feet
Vertical feet traveled provides an interesting perspective to your runs. A lot of people use this attribute to help quantify their experience and a lot of other apps and systems use this metric. It's not necessarily something I prefer to brag about personally, but it does help you gauge an aspect of your trip that others can relate too.
Distance traveled
Provides the actual distance not in vertical feet, but the lateral distance. This is interesting when you ride a place with a lot of cat walks like Vail and you can really compare this data with other trips where you may not be traversing so much.
Speed
Speed is definitely an attribute that I wanted to have access to quickly. I read some other blogs where some other people had problems looking down at the HUD while going fast to review their speed. I didn't think it was going to be an issue with me, but it actually was, especially if you're going 40mph+. At those speeds I am normally looking forward and about 50ft. in front of me, so looking down to see my speed in real time is a bit difficult. Not only are you taking your eyes off your trajectory, you have to focus a bit since the HUD has a slight magnification lens to it. Even in those few milliseconds, you could get off course and hit an unexpected obstacle.
Many will say that there are existing solutions that provide a lot of these services already and at no cost for most devices. That is true to an extent, I have several of those apps installed actually but they do require more interactivity with the device to either turn it on or off and they can drain your battery rather quickly if left running in the background for long periods of time. I will admit that it is pretty cool to see this information in real-time and in context of the goggle with the convenience of not having to stop completely and remove your gloves, pull out your phone and do all that stuff. However, if you do have to do that and not use a HUD system, I don't think it's that horrible, but it does inhibit your experience and can put your device at risks to weather or other aspects that could harm to your device or even increase the potential to lose it.
Vail Resorts has Epic Mix which not only is a mobile app, but it provides passive connectivity throughout their resorts by communicating to your season pass via RFID and sensors throughout their resorts. That is a great way to capture and provide information, but it requires a unique infrastructure and is pretty proprietary to Vail Resorts only. This does help with battery life of devices though, but the data can only be estimated and you do not get the fidelity of your run details like you would with the Recon system or another tracking system.
Buddy Tracking
Unfortunately, nobody else I was riding with was using the Recon system, so I could not utilize the buddy tracking system. According to the feature description, you should be able to track others in your group using the system. This could be good for back country, larger resorts, and/or high risk areas, also with groups where some riders may require more guidance like younger kids or novice riders. But everyone would need to have the system in order to have this work effectively.
I'm not sure how the interface or view looks like for this, I'm assuming it utilizes a map of some sort and some points of reference to other users.
Navigation/Compass
This is essentially a digital compass. Simple and useful for direction. Likely more useful in the backcountry than at a smaller resort, since most people just follow the runs and resort maps and it is rare to get lost at a resort, but it is still nice to know direction when you need in context of your view.
Music Control
This pairing allows the remote to access your phone and control the music. You can ffwd, rwd, adjust volume and see the artist, album, song info if desired. Although, music information did not always get displayed for some reason during my testing. You do need to use the remote to navigate to the music control screen and then you can view and manage your music control.
Using a system like this is a great option, but there are also solutions for music control that already exists, such as headphone inline remotes, which might require you to remove your gloves, and some softgoods have experimented with built-in remotes like Burton's Amp jacket. As far as ease of use and convenience, this system may be a bit more user-friendly considering accessibility with gloves on.
Music control is nice and to be able to see music info and control your music, but I do typically know what I'm listening to and most devices have a recently played in case you missed it and need to check on it later. Granted there are some songs that play through that I don't know and those rare cases I do want to know what the song details are, so this system would come in handy to address that.
Many have asked if they offered headphones in the goggle, and the answer is "no" and I don't think that is a bad thing at all. I don't think headphones in a goggle is a great concept in general. People wear goggles differently, so the strap may be on the inside or outside of a helmet and may not align with ears. Also, there are other solutions that are likely better to provide the audio aspect of your experience like in-helmet headphones or just your traditional headphones and they can do what they do best, so the Recon system does not need to provide a solution for this.
Notifications
After updating the firmware and connecting within the iOS settings, I could now receive text messages and phone call notifications in the HUD. I know, many of you will say, "who the hell wants those disruptions while you're trying to shred?" They can be disruptive to an outdoor experience for sure, but they can be very useful as well. Consider if you're riding with a group of friends, family or child and someone happens to get lost and you need to reconnect. Or you are awaiting for an important text or call because you're ditching work or something like that which I never do

.
This connection kept disconnecting throughout the day and I eventually did not receive any notifications throughout my session, so unfortunately I wasn't able experience this on the slope when a few of my friends that I was meeting up with planned on calling me to discuss a meeting point. However, I did test this feature out at home and it worked fine and was pretty cool to be able to see the details of a text or call without the need of taking out your phone to view it. And yes, if you are listening to your device you will hear ring tones in the headphones and customized ring tones may help identify calls better, but nothing can replace the visual for a text message. With that said though, in order to reply, you may have to take out device or use a voice command system like SIRI.
Apps
I have a GoPro camera, so I was not able to use the Contour Camera App that was already installed on the HUD. Apparently you should be able to wirelessly connect to a supporting Contour branded camera and utilize the HUD as a remote view finder.
Now, this is a BIG VALUE to the riding and filming experience. Although GoPro and other systems do provide some interesting solutions, most of them do not provide a very convenient way to see what you are filming without actually viewing it through the a handheld view finder or via your mobile device. Sometimes it is difficult to get your shot set up in time when you have to adjust all your equipment. And I'm talking more for the casual filmers/photographers as most serious filmers are prepared to deal with the needs of equipment, time, communications and set-up for good shots and it's just not always convenient. But I could see some professionals using this as an added tool to their set for capturing shots while riding. I would have loved something like this when I filmed skateboarding back in the day, not necessarily in a goggle, but possible a Google Glass type of device.
I'm not sure what other apps they have in mind for the future or that could be created and supported, but there are plenty of options, especially if this expands outside of snow sports. I have seen content online of hackers who have been able to work with the system and integrate it with some custom Android applications, so the potential for growth and a large market is high.
General Info
Connectivity indicators to inform you if you are connected or not to your device
GPS connectivity indicator (satellite).
HUD battery life indicator *phone battery life indicator would be nice too.
You get Time persistently displayed as well which doesn't sound like much, but there I discovered there are many areas/lifts at resorts that do not have the current time displayed, even at places like Vail. Although time shouldn't matter when you're riding, right?
Power/Battery
We all know that using GPS and bluetooth peripherals are going to drain your device's battery really quick. I had my music playing from my iPhone and connected to the HUD via bluetooth and with a full charge, the phone lasted about 4.5 hours. The HUD was near its end as well, but probably would have lasted another 30-45 minutes.
My phone typically lasts practically a full day when I just play music during my entire ride time on an average 4-6 hour day and I have had it last 6+ hours before with plenty of juice left. This includes some minor usage of phone and text messaging throughout the day as well. But when you do use an app that taps into your GPS and/or bluetooth, I expect it to drain the battery quicker than normal.
As I mentioned earlier, you do not necessarily need to use the HUD in conjunction with your phone in order to obtain and view certain data, you could just use the goggles/HUD. However, you will not get the full experience and features if so desired.
Alright, now for the User Experience Tech-Geeky stuff.
Behaviors
Like other devices especially in the mobile realm, I see 3 behavioral environments for this system and how a user interacts in those settings. Some of this aligns with the common mobile user behavioral types defined by Google and some other leaders in the mobile industry: Repetitive now, Bored now, and Urgent now behavior types.
User environments and behaviors:
On run – During trip
This is for the rider who desires full control over everything in real-time and in context of their view as they ride (Urgent now). The user may be actually riding and I would say it isn't possible to navigate through the screens with the remote and do some minor interactions while actually in motion, but most will likely end up stopping and then interacting as needed. It could be dangerous to try to interact with this system while in motion.
In my opinion, the most useful set for the on run user other than the time clock display, is likely the trip info, speed, jump time, and vertical feet. My next view priority would be the Contour Camera app if the user was utilizing it.
On lift/In Lodge – During trip
Now that the user is on a lift/gondola, the user has more time to actually navigate through the views and interact with the features
This is where a user will likely engage in the "bored now" and "repetitive now" behavior type interactions defined by Google for mobile users.
The user may dive deeper into the trip stats and info and review not only the last run stats, but the best of the day and other historical data. The user may also engage with their music and change up a playlist. Also, if the user did some filming, this is a great place to review the footage to see what was captured and share it. If any notifications came through that were not urgent, they may wait until here to check back with those notifications and address them in this more convenient setting.
The key thing with this setting is that the user can dedicate more focus towards utilizing the entire system without risk of injury to their self or others and not detour their focus from the primary activity of riding.
Post/Pre-trip
This setting allows the user to perform the necessary set up, research, sharing and tracking. Prior to a trip, the user may perform some set up functionality and preparations. This aligns more with a behavior type of a user that is in a more robust setting like at their desktop computer.
If the user has previous trips, the user may also research their historical data for future planning and goal settings.
After a trip, a user will likely connect and sync to the system via the web app and then this will allow trip data to be accessed via the mobile app as well or any app that is associated with your account. This is great because now you can access your data from almost anywhere for a variety of reasons, from research, planning, tracking, and even sharing.
It is pretty cool to see the runs you took, the start and end times and other stats associated with them down to the fidelity that this system captures. Although it is a bit odd to see on the map, as it is a summer time view of the mountain (at least with Vail) with lush green grass and trees rather than the white snow you just rode. That of course is more of a map source constraint than a result of the Recon system and it's not bad, it's just interesting to see the seasonal variances.
USERS
I noted some user types that may be the ones who would likely utilize this system, but there is also the general user or another persona type who may not fall into these categories.
The Early Adopter
Any early adopter of technology would love this. It totally brings the future to you right now in a very convenient fashion and peripheral that you are likely to already use, the goggle. To have this in your hands in such a sport such as snowboarding/skiing really is practical and a great fit.
The Tech-head
If you already utilize some technology in your riding like a music player, phone and/or camera then this is the next tool for your arsenal and I think it is worth it for that type of individual. The average "joe" rider who's not into all the technology or just wants to go up and down the mountain may not feel that way about this system. Keep in mind, the experience also lives outside the goggles with the historical data as well.
The Filmer
For those who are filming this could be very advantageous to have an in-goggle view finder for immediate and contextual access to the camera's view, so you don't miss those perfect shots and are not forced to have to take off your gloves and pull out a camera, viewfinder backpack, or mobile device and risks losing the shot opportunity, losing equipment, or exposure to the elements with equipment that may not be protected from it. More and more people are shooting and filming and sharing, so this is a really great tool to help with that field.
The Communicator
For the person who needs to ensure they don't miss a text message or phone call, the notifications could be for you, although I think many would feel that it is more of a distraction than a benefit. Also, unless you have a really great voice control system, you may still have to pull out your phone and manually call or reply to those notifications, even SIRI has problems in the outdoor environment.
Value?
So, what most people would like to know, "Is it worth it?"
The suggested retail price of the Smith IO Recon google is about $600.00. Most traditional high-end goggles range from $150-$300, so they can be 2 to up to 5 times as much as a traditional higher-end goggle. They are actually in the range of a high-end snowboard. Some of the features can be found in other equipment and devices for a far less cost or no costs dollar-wise, but for that you will pay more abstract costs of inconvenience and costs of risks to you, your experience, your device like the potential of damaging or losing your phone. Those other systems will not provide the value of the overall experience that these goggles can provide and to me, the overall experience is what should determine the value for you.
As I mentioned earlier in this post, you may want to consider "the problem(s)" this tool may be solving for you. Are you experiencing a "problem" during your riding that a system like this could provide a solution for?
For myself, I think this system is worth it, as I fall in some of the user personas I noted earlier, so this system is addressing some of the problems I currently am facing. I expect technology to be expensive in its early generations based on experience, so the price tag isn't too shocking to me. Getting on board with this technology early on helps the entire landscape, because early adopters can help provide insights and feedback that may help drive the evolution of the concept, which also holds value to me.
A user who is with a group that may have a tendency to get lost and need to track others like children or high risks individuals and areas, so having the ability to track others may be worth it alone. As far as the other features like general stats and contextual access to data like speed and vertical feet is very cool and convenient. To be able to view the historical data for recapping, sharing and future planning is another solution aspect and this may be a problem some are experiencing with their existing set up. Filmers or even general people who want to capture the moment have several solutions and tools right now, but my personal experience is the problem of convenience and quick access to filming tools along with the ability to view what you are filming, like if you are using a camera without a view finder like a GoPro.
A lot does point to convenience and efficiency, but when you look at a lot of other successful products in our lifestyles, these two things are the underlying theme behind most of them. From eye glasses, the TV remote control, wrist watches, automobiles, airplanes, lights, highways, the list goes on and on. I guess some one see "laziness" as the driving factor too.
An early experience I had that relates to this and the value of a "high priced" product or technology was when I spent $500 on  the first generation 5GB iPod and many of my friends thought I was crazy. They had portable CD players for about $100 that they thought were the best and sufficient. Other Mp3 players existed for under $100, but only stored about 64MB. But when my friends borrowed my iPod for the day, they all came back to me and said they're going to get one. Now, this goggle system may not be the game changer like the iPod was, but it still lives in that same vein of innovation and technology that can really help improve the experience of certain scenarios and I highly encourage any rider to try it out for themselves. It may be perfect for your needs, or it could very well be something that you would never use, it's up to you to decide.
Too much technology?
Of course there is the "natural" aspect of snowboarding and it is a channel of activity that should get you away from technology. I agree with this philosophy to a certain extent. I do enjoy the open nature atmosphere and environment but I also love listening to music while I ride and without mobile music technology, that wouldn't happen. Also, a lot of equipment now a days wouldn't be possible without technology, although that doesn't mean you necessarily always have to be connected to it. But if you're already a rider who is using a mobile device for music or for communication, this isn't too much of a push on being connected to that technology and making it a bit more accessible.
The Smith IO Goggle/Hardware
I think Smith did a great job incorporating this system into their IO goggle and keeping it pretty streamlined. Everything is still relatively conventional feeling with all of the lens switching and options that the normal IO offers, but the lenses do have a small modification where the dual lens seal is so it aligns well with the HUD in the bottom right corner. Even if you don't use the HUD, the goggles still function great with no obstruction from your view. Overall the goggle is comfortable and has a very clear view range. Lens options are great to for adjusting to various lighting conditions. The fit is nice and works well with or without a helmet.
Another nice thing about the goggle is the packaging. Smith did a great job for the first impression of a $600 goggle. The packaging is sleek and well designed. It is a large box almost the size of a shoe box, with black on black graphics and a foam lined interior that holds the goggle, the remote, the semi-hard case and other accessories that come with it in a nice presentation, including another lens. I know some just see it as a box, but to me it is the beginning of the experience of these goggles reassuring you that you did get something special. Almost in the Apple'esque style when you open an iPhone or other Apple product. There are other brands that have great packing as well.
Summary
I do think this technology front has very high potential and it is so awesome to see companies exploring this frontier especially leaders like Smith Optics. It is relatively young and in its early generations, so it will take some time to refine, but they have to start somewhere and I think Recon is starting off well ahead and in the right direction.
All technology goes through this type of phase, and the successful ones have to. It is inevitable that this technology will improve and get better in the next couple of years providing more and more features, options and the price will likely decrease making it more accessible to more people.
I envision other sports likely adopting this type of concept as well, like cycling, gliding, parachuting/base jumping, running, wake boarding/waterskiing and possibly even rock climbing. Any sport or activity that can benefit from contextual visual display will likely be explored.
Google Glasses has recently released a video of their experience and I would say it aligns pretty well with the recon system. Those aren't cheap either at this point but they have a waiting list and currently many question the device's practicality, not only in usage but appearance. With that in mind, I would ask if 10 years ago, who would have expected everyone to be staring down at their little box (smart phone) for long periods of time while at dinner with a friend, on the toilet playing games with others, or even while walking in traffic or even while driving introducing new experiences overall including dangers and risks to users. It is my opinion that the contextual heads-up-display is likely to evolve and succeed as an integral part of many lifestyles in the near future.
My Wish List
Just some things I think would help the evolution of this concept:
I would love to have options of HUD placement within the goggle, not only on right or left side, but perhaps vertically as well.
Other remote options: perhaps on the google strap similar to the Zeal camera goggles, partnership integration with outerwear companies to build it right into the outerwear.
Easier connectivity: I understand this also involves constraints with the OS's of the devices as well. (the latest Engage software update noted it has improved this)
Mirroring Display: possibly a way to mirror the screen of your phone? Perhaps a bit too much, but could provide some interesting control options for other apps and phone features.
More apps: GoPro, Social Networks, etc.
Integration for buddy tracking with GPS-based mobile apps instead requiring others to have the system.
Introducing gamification concepts? People love incentives and to brag. Vail's Epic Mix has "pins" for certain accomplishments and this could be one type of aspect to explore for adding gamification to the system.
Connected device battery status.
Going out on a limb here, but possible even utilizing the lens real estate more and displaying content in various areas, maybe using flexible screen technologies. See my concept below.
My Future Concept
I decided to come up with a concept that I think this type of system could potential evolve into one day when the technology supports it and is within reasonable expenses. The idea involves visual displays within the lens itself with customizable sections to display the desired data and in the position the user chooses.
In addition to a modification on where the data could be displayed, it might also be interesting to add some more logic to the system with a dynamic "smart" display system that could utilize some threshold attributes to determine when and what to display. These thresholds could be based movement and/or speed or possible a manual interaction like the user simply pressing a "hide" button. The user could choose to hide/show all or certain data types for their needs when they need it.
Please keep in mind, this is just a rough concept sketch. There are a lot of aspects of it that could definitely be more thought out and streamlined in addition to thinking through various considerations, but this was just an initial reaction to this technology as I was writing this post.
Click on image to zoom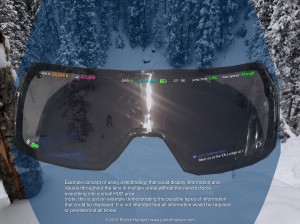 Concept with possible data presentation options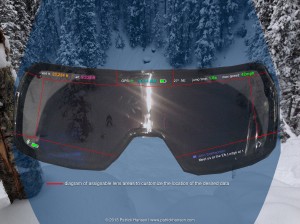 sectioned areas of real estate for data/info customization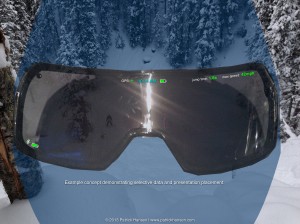 Customized presentation with specified data in view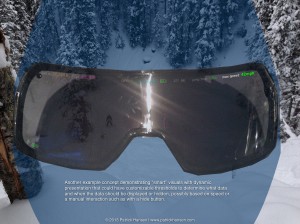 Example of certain data presented when desired, other data could be hidden, possibly based on movement or manual interaction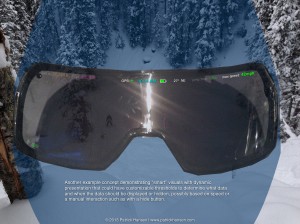 Another example of certain data presented when desired, other data could be hidden, possibly based on movement or manual interaction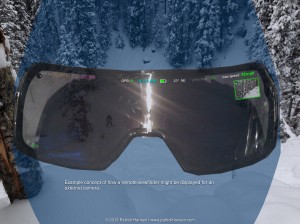 Example of remote view finder display
Resources
For more info visit:
http://www.smithoptics.com/products/#/Snow+Goggles/IO+Recon+Vaporator/
http://www.reconinstruments.com/
note:
Price may vary from the date of this post.
Software/firmware features and functionality may vary from the date of this post.